The holidays and post-NaNoWriMo daze are upon us. Give yourself a break, relax with family and friends. Or if this is the time when you finally get quiet to yourself to write or plan for the coming year, browse through the posts you've been too busy to participate on and drop some comments on the blog or do the assignments.
Gifts from me to you
My first gift to you is to remove two weekly items from your inbox for the rest of December. I'll be suspending posts until after the New Year.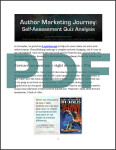 Meanwhile, for your convenience and as a bonus gift, here's a link to download a printable version of the full author marketing self-assessment analysis (a 10-page PDF). Reading it in three separate posts is nice when you want bite-sized chunks, but printing it out for offline reading or future reference is handy, too.
A season of joy… and hope!
May all the hope and joy and peace of the season be yours.
And come December 18… I hope we all will enjoy the awakening of the Force! (Please, please, please be a good movie!)