Hello, author! Allow me to introduce you to Tweetdeck. Of all the tools out there, the primary reason I chose Tweetdeck is because it is Twitter-native — it is supported directly under the Twitter company umbrella. Many times, this means the tool will be more reliable and may even get preferred treatment in terms of functionality and compatibility with Twitter tech.
How does Tweetdeck help authors?
Schedule tweets for future posting. Maintain a presence on Twitter throughout the day or week without being distracted from writing to constantly post things.
Manage multiple accounts in one place. For example, you might have a personal Twitter account and an author Twitter account. Or a separate account for each book series or genre you write in. For example, I have an account for Teddi Deppner (@teddideppner) and for the #SpecFicCollective (@specficcollect).
Quickly research (and keep an eye on) hashtags. Find ones related to your post, see how it's being used, and check whether your target audience is a part of that conversation.
Turn on alerts to keep up with emerging information. If you're trying to ride the wave of trending topics, you need to know what's happening.
Mute users or terms to eliminate unwanted noise without unfollowing people
Tweetdeck streams in real-time, so you don't have to refresh the page to see the latest updates.
There are more features, but this list is already long and impressive. If you want to try it out, sign up for a free Tweetdeck account using your Twitter account.
A peek at the interface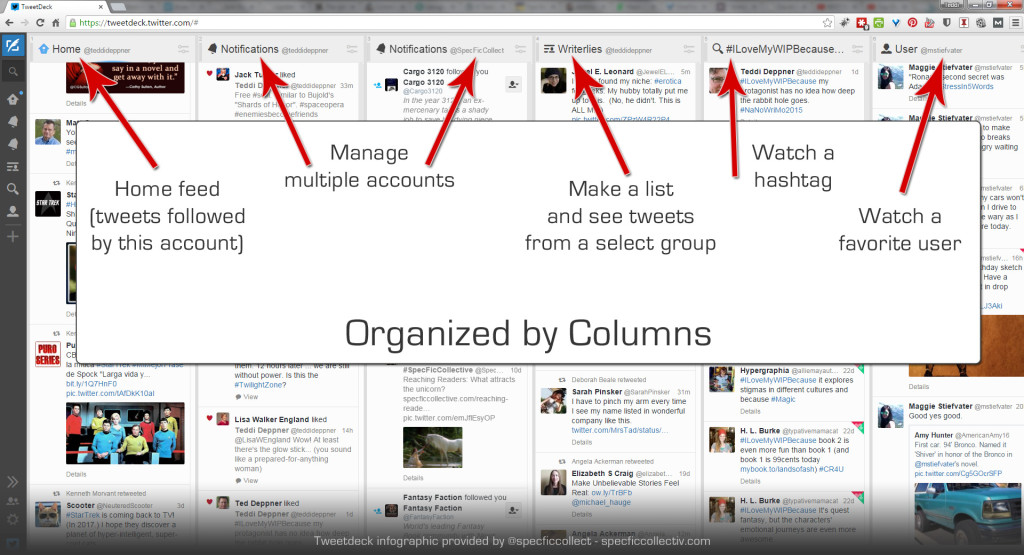 The strength of Tweetdeck's interface is the columns. Each column is like a window on the Twitter world. Choose from a variety of views: a stream of tweets from everyone you've followed, tweets from just the people on a custom list, notifications for certain accounts, tweets containing a hashtag, or tweets from a single user.
Here's the complete list of column options:
Since your monitor has limited horizontal space, you may only fit 4-6 columns before they go off the edge of the screen to the right. But no worries. You can navigate as far along the stack as you like with a single click on the master list — the strip of icons on the left.
When you hover your mouse over the icons, you see which column it represents. Click it and the entire view slides horizontally to highlight your selected column.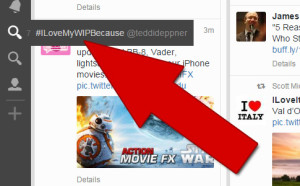 Handling multiple accounts
One of my favorite parts is how easy it is to manage multiple Twitter accounts. When you have something to say, simply click on the icon of the account from which you want to tweet.
When you are favoriting (actually, it's called "liking" now and has a heart instead of a star) something, you can do so from any of your accounts. When you retweet, you can select which account to retweet from — you can also select multiple accounts and retweet from all of them at once.
Easy peasy.
Why it matters
Tweetdeck can help you develop a presence on Twitter in the same places your readers are hanging out. Use it when you want to engage in real-time conversations with people, when you want to become part of the trending topics of conversation. It's especially useful when targeting a younger demographic, though it's also important that you're available to keep talking if you engage them.
Tweetdeck is useful when you have articles and memes that you feel have the potential to go viral. Sharing is easy and quick on Twitter, and in the right hashtag at the right time, your post could reach hundreds (or thousands) overnight. Experimentation and consistency are key strategies, and the multi-column view of Tweetdeck saves you a ton of time if you decide to dive into the Twitterverse.
Finally, use Tweetdeck to research topics for online discussion. Wondering what to blog about? Find out what's hot in your genre right now, what fans are talking about, and what people really think about certain books or movies. The insights gained into the minds of your target audience are priceless.
What about other tools?
There are plenty of social media management tools available to authors. This article is not an exhaustive review of what's available, it's an introduction to one of the tools that is free and feature-rich. If you want to check out the others, do a quick Google search for "twitter management tools" and you'll find a solid handful of options. Some are free, some are not.
Share your experiences
If you've used a different tool and found good success, feel free to share about it in the comments. If you have questions about using Twitter or social media, tell us! The Collective is about sharing knowledge. Enrich the hive mind by leaving a comment below.