Fill up your Author Toolbox. These posts will highlight resources that we've found helpful. Blogs, software, books and people who have something to offer authors. This time, we spotlight a place to get your daily dose of science fiction — or to submit your short specfic stories.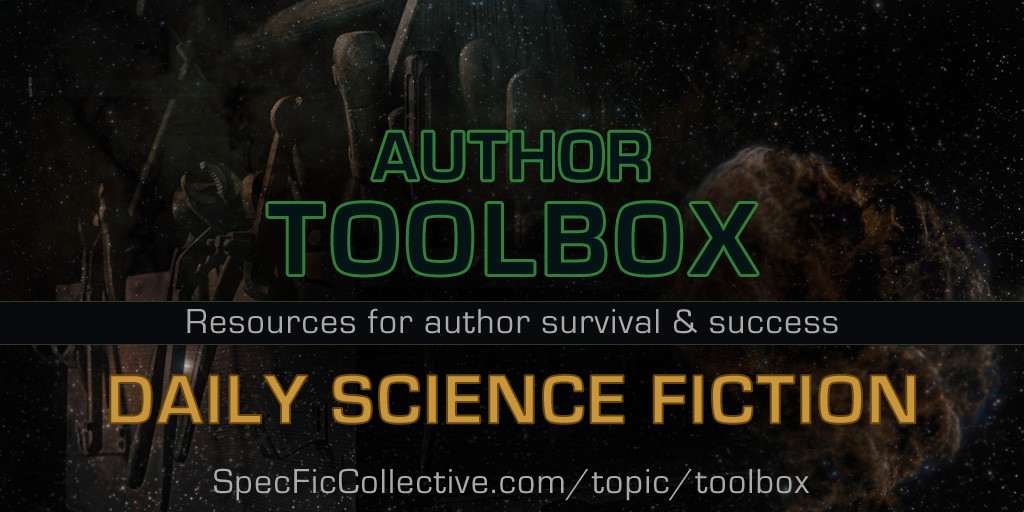 I've been subscribed to the free daily fiction emails from Daily Science Fiction for a while now. The stories are the right length for a quick read while waiting for something, taking a break from work, or to read aloud to friends or family (I've actually shared Ten Things You'll Only Get if You Were a 50's Kid twice in the last three days, reading it aloud to my sister and mother-in-law, and passing my phone to a friend to read for herself while we were hanging out). The story quality is generally excellent and the stories just plain fun. Or disturbing. Or a little sad. Or all of the above.
Just as spec fic should be.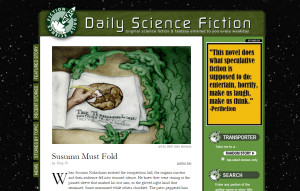 Daily Science Fiction (DSF) greets us on their home page with the following description of what they do:
Original Science Fiction and Fantasy every weekday. Welcome to Daily Science Fiction, an online magazine of science fiction short stories. We publish "science fiction" in the broad sense of the word: This includes sci-fi, fantasy, slipstream– whatever you'd likely find in the science fiction section of your local bookstore. Our stories are mostly short short fiction (flash fiction) each Monday through Thursday, hopefully the right length to read on a coffee break, over lunch, or as a bedtime tale.
How does DSF apply to us?
Authors need to be reading in their genre. DSF provides easy, bite-sized stories to inspire and jog our imaginations. You can read the stories on their website or subscribe to the daily emails. On the website you can search or browse by topic. Another fun element is that after reading, you can rate the story by "rocket dragons". Don't ask me why, that just tickles my spec fic bone. They also publish anthologies of each year's short fiction.
Authors need places to submit their work. DSF would be a great place to submit short stories or flash fiction.
Authors need other authors of like mind. When I find a story that resonates with me, I track down the author from their bio on DSF (when possible) and connect with them on social media. Sometimes these relationships develop into friendships and the opportunity to encourage each other and/or promote each others' work (collaborative marketing!).
Sometimes, authors need places to advertise. DSF has a readership that loves speculative fiction and they offer ad spots on their website.
Do you have a place you go for free online speculative fiction? Post it in the comments below!