Fill up your Author Toolbox. These posts highlight helpful resources: blogs, software, books and people who have something to offer authors. This time, we're looking at an alternative income stream: offering paid online classes sharing the knowledge you gained doing research for your novels.
Meet David James Ault. This British author took the info he gathered while researching a novel and turned it into an educational resource on Udemy, a site designed to "help anyone learn anything".
"Created from the research carried out for the second Time School novel, this course acts as an ideal supplementary learning material for pupils or students studying Ancient Egyptian History, whether at school or at university. The course is also an excellent resource for anyone who has an interest in learning about Howard Carter and the search for Tutankhamun, or has a passion for history in general."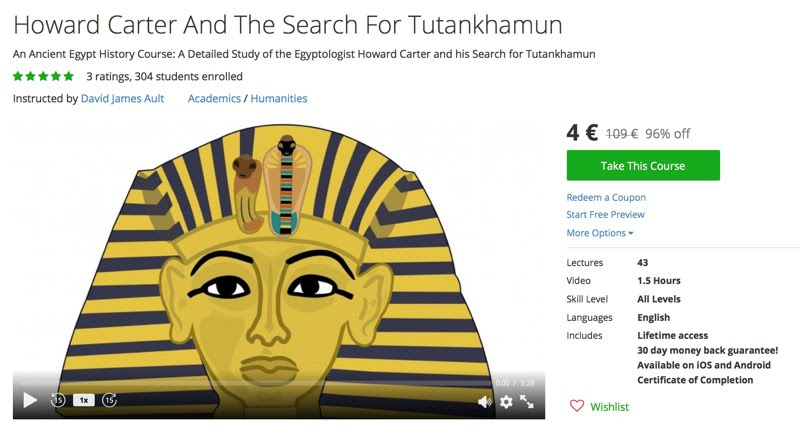 There are a number of companies and websites offering ways to publish an online class or course (see the links at the end of this post). The advantage of Udemy is that they do not charge you anything to host your class. They get their cut when someone buys the class. This means you don't have to wrestle with adding e-commerce to your own website. You only have to figure out how to create the class files, and Udemy provides tools and help with that.
What topics have you researched that might be useful to someone else?
One of the big questions for authors today is how to "make a living" at writing. Which options you pursue depends a lot on your personality and skills. Some authors are gifted artists and make money with their art as well as their writing. Some are savvy marketers and focus their efforts on creative ways to draw in new readers.
Packaging your knowledge as an online course is just another option to consider. One of the big benefits is that an online class at Udemy is a passive income stream. That means you create it once and then earn income whenever someone buys it without additional time or attention from you. If you think you could organize the research notes you have into something useful to others who might want to learn about a subject, you could make your research time do double duty as novel fodder and class content.
Post a comment below and share a topic you spent time researching that might be of interest to others.
Additional resources about publishing online classes