Concluding our series on the author marketing and publishing journey, we examine the answers to quiz questions 5-8. If you missed the original 8-point assessment quiz or Part 1 and Part 2, take a moment to review them. This post is most useful if you use it to analyze your answers to the quiz.
Once more, I treat you to quotes from Miles Vorkosigan, the protagonist of Lois Bujold's Vorkosigan series. Miles is a master strategist, but too impulsive for his own good. His most brilliant strategies tend to arise out of the need to escape some ridiculous trouble he thrust himself into.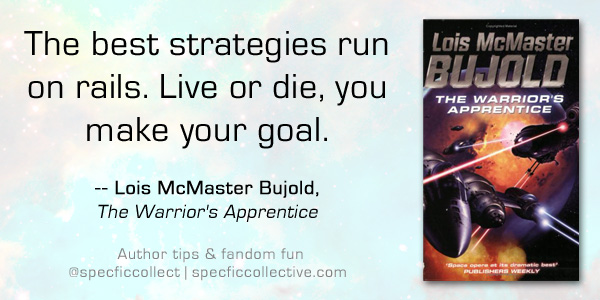 5. Completed work next steps
If you took the quiz, you know what you need to do with your finished piece. What are you waiting for? If you have something finished, take the next step. Hint: Usually, that means showing it to someone. Whether you need a critique partner, a beta reader, an editor, an agent, publisher, book cover, etc, get it. If there's a decision that must be made (where to submit it, whether or not to self-publish, etc), make it. Move forward.
6. Overall career next steps
The strategies listed above may have given you some insight to where you are and what to focus on next. Also check your answer from the quiz: what did you think you most needed to do next? Put it into context by framing it in a timeline. What do you want to accomplish by the end of the coming year? What about the next three years? Five? Research proves that writing down and scheduling goals makes them more likely to be achieved. Having a written plan can be as simple as:
This coming year: Finish my novel. Write three short stories. Submit something to at least six places for publication (or if self-publishing, publish at least one item somewhere).
3 years: Have at least 5 published works out. Have a solid author brand. All my tools in place to build my platform. Have 2-3 authors friends who are committed to sharing the journey together and encouraging each other. Have 3-5 influencers that I'm building relationships with.
Don't over-complicate it. But do write it down. And as you come across articles that give you insight about next steps or specific strategies and tactics to use, jot them down. Keep it all in a folder, and review it at least quarterly, if not monthly. [Star Wars voice:] Stay on target, stay on target…
7. Greatest obstacles
We all have things that get in the way of where we want to go. Remember, you are the hero of your story. What do heroes do? Sit around and let obstacles stop them? Nope! I guarantee there is an answer out there.
Tackle your top three problems head-on (lack of time? feeling overwhelmed? don't know what to do next? etc). Schedule time every week (even if it's just 10 minutes) to explore solutions. There are great blogs out there dealing with any topic you can imagine. Even if your obstacle isn't something you can change (you might have a chronic illness or limited time, etc), there are things you can do to move forward. Find solutions. Do them. It might not be easy — but it is that simple.
Stay encouraged: even if your progress is slow, celebrate each step forward. I've said it before and I'll never stop: Find friends that will encourage you, inform you, support you. Sometimes it takes years to find the right friends: so start now and never give up searching. Which leads us to the final piece:
8. Greatest assets
Besides your work itself, your greatest assets are people. There are three types of relationships we focus on here:
Fellow writers (both those who are in a similar place on the author journey and those who are ahead of you)
Mentors (teachers, editors, agents, other voices of wisdom in your life)
Influencers (readers and those who influence readers)
The quiz asked you to list three people or groups that you have in your corner. Cultivate those relationships. If you don't have three, go out and find them. Ideally, build relationships with people in each group listed above.
A writer's group, a Facebook group, and fellow writer friends will provide mutual encouragement, ideas and accountability. Mentors can be people you know, but may also be voices of wisdom and insight that you find online or in writing how-to books. Gurus like James Scott Bell, Seth Godin, Kristen Lamb, Steven Pressfield — anybody whose teaching on how to write and market your books resonates with you. Read their work and do it. Repost their articles and ask them questions on social media. They may not be close, personal friends but your writing journey can be propelled by their insights if you pro-actively apply their advice.
In today's highly connected world, publishing involves relationships above all. This is true of nearly all kinds of business and marketing now. You don't have to be an extrovert to have good relationships. But remember that any good relationship does need attention to stay healthy. Seeing your writing tasks through the lens of relationship can be enlightening. Writing drafts = a relationship with the characters, with your beta readers, with your critique partners. Marketing = a relationship with fellow authors and your readers and their influencers. Your body of work = a relationship with the world and the generations to come. Food for thought, eh?
The traditional ways people practice relationships are being challenged and reshaped by the technology we have today. How does one have a relationship with 10,000 of one's greatest fans (Twitter) or 500 of one's closest friends (Facebook)? Find what works for you, but most of all: Never underestimate the power of relationship.
Conclusion
This 3-part series (originally drafted as a monster 2,800+ word post) has turned into a master resource that you can use and re-use over time. Bookmark it, pin it, print it out — share it with your spec fic writer friends. Review these eight areas of your author business regularly. Point yourself in the right direction, and gun it.
Or walk it.
Just move forward. That's the thing.
And now my brain is echoing with that gem from Firefly's "The Message" episode: "When you can't run, you crawl, and when you can't crawl – when you can't do that… you find someone to carry you…" Here's to the #SpecFicCollective community, and our commitment to running, crawling… and carrying each other.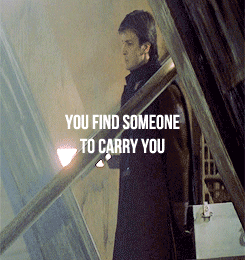 To which I might add: Don't make me shoot you to finally get you where you're trying to go.