Hook eyeballs? Ewww. That sounds like a horror movie, doesn't it? Well, we are a #specfic crowd, which includes horror. So why not?
I'll tell you why not! 'Cause I'm not a horror fan, and googling "horror fishhooks eyeballs" led me to a picture of a guy named Frank full of hooks and chains in the 1987 movie Hellraiser. No, thank you. When it comes to horror, I stick with either sci-fi horror (a la the Alien franchise, District 9, or Monsters) or dark/urban fantasy (a la the Underworld series, I Am Legend, or Dracula Untold).
In fact, I need to wash my eyeballs right now. I need a vision of beauty.
Ahhh, that's refreshing.
Now, where were we? Ah, yes — catching the reader's eye
In SproutSocial.com's article on Twitter engagement stats, they say tweets with images average a 35% increase in retweets. And I know why. When I'm scanning through my Twitter feed (actually, I use TweetDeck to manage my Twitter interaction), it's the pictures that catch my eye almost every time. Take a look at this screenshot: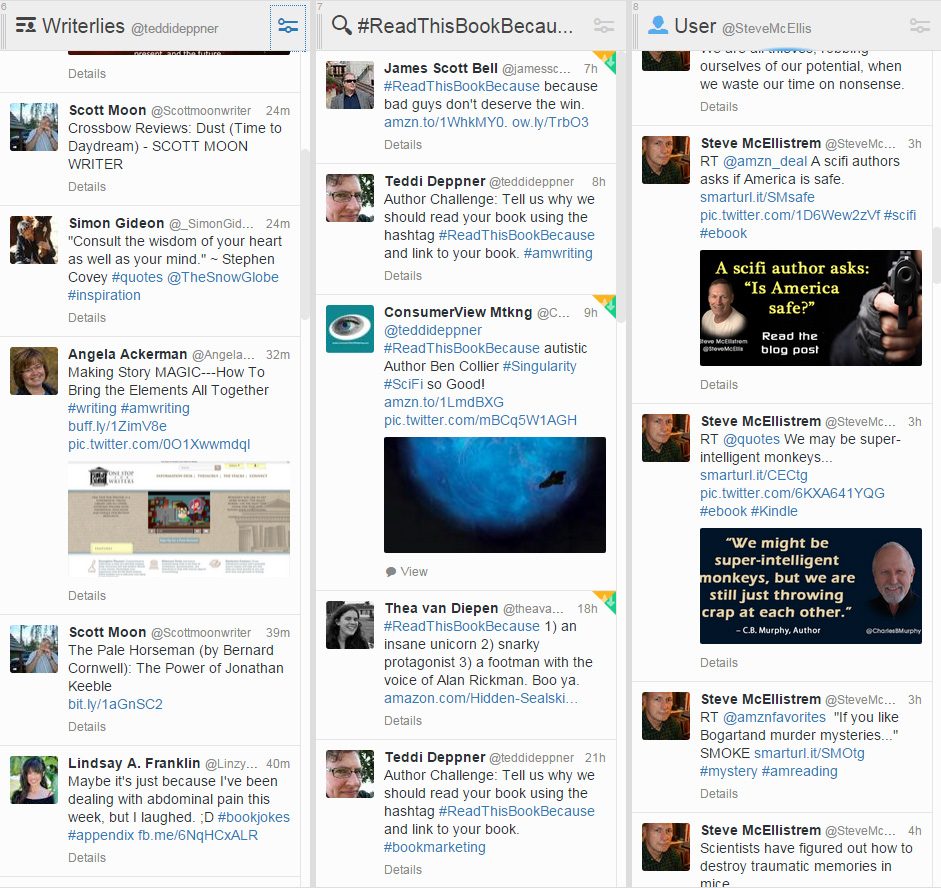 Where does your eye go? To the pictures. And which pictures in this shot actually communicate something to you? Yep. The ones in the right column. I've noticed these tweets have a similar look. In fact, I'm pretty sure that either the same person is generating all of them or a group of authors are following the same template.
This simple template is winning Twitter

When you see a number of these graphics in one place (like those on the right), you can see the pattern.
Size: 525 x 250 pixels
A solid background color (a muted, dark tone)
An author headshot (remember, people want to connect with other people!) and name/handle
A quote or teaser/hook
Font large enough to read when the image is shrunk into a Twitter feed (for the teaser text)
A call to action ("Read the blog post")
Many of them specify their genre ("Mystery author" or "Science fiction author")
Be strategic
Honestly, not everyone needs to do this. And even if you do it, not every tweet needs to have a graphic like this.
This is a good strategy when you are ready to build your fanbase. Use it when you have something of interest to offer to potential readers. Some posts will lend themselves to this sort of fanfare. Others, not so much. Over time, you will figure it out.
Tip: If you already have an archive of blog posts (and if you have traffic stats you can examine), then find the posts that get the most hits or which have the most comments and create graphics like this for those posts. They have already proven themselves to be of interest, and this sort of promotion is likely to bring in more traffic.
Bonus tip: If you are making an effort to bring more traffic to your website, MAKE SURE YOU ARE PROMPTING VISITORS TO SIGN UP FOR YOUR EMAIL LIST. Oh, sorry. Caps lock got stuck there. But seriously, you need to capture those potential readers if you can. My favorite (free!) WordPress plugin for gathering email addresses: SumoMe. Fantastic plugin. Install now!
You can do this. Yes you can.
Feeling graphics-challenged? You don't have to own Photoshop or learn any fancy graphics software. There are websites out there to help you do this sort of simple graphic directly through your browser. Check out PicMonkey and Canva for starters.
If necessary, hire a high school or college student on the cheap to put something like this together for you. Ask a relative or a friend whom you know has graphics-savvy.
Future posts may include step-by-step tutorials on creating graphics like these. Or I might do a quick video tutorial. Would any of you be interested in something like that? If so, leave a comment below!