Last week we posted an 8-question quiz to help you assess where you are in your author journey. The publishing landscape is complex and ever-changing, and it's easy to get overwhelmed. In fact, when I finished drafting the quiz analysis, the post was almost 3,000 words long! That's a lot for one sitting. (If only I could have added that to my NaNoWriMo wordcount. *le sigh*)
So I've broken the quiz analysis into three posts. Once you've got your list of answers from the quiz, analyze them with the suggestions in these posts to determine your primary focus for where you are right here, right now.
Forward momentum + right direction = Win
During this series, we're going to take some inspiration from Miles Vorkosigan. He is the master of forward momentum. What this means is that I don't have any gorgeous movie photos to share with you, so I'm going to use book covers and quotes. It may look a little like advertisements, and yes, I actually link to the books on Amazon. But it's not some nefarious scheme to fund this blog via referral micro-payments (ha!) or to make any authors feel left out because I'm not quoting their books (wait your turn!). It's simply because this is my blog and Miles is my favorite protagonist of all time (so far), and because I hope you'll enjoy the quotes.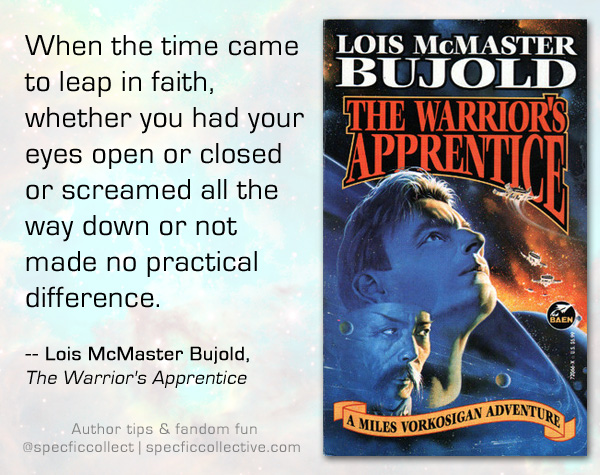 1. Publication status
Unpublished – Your number one goal is to WRITE. This may seem obvious, but as you probably know by now, it's easy to get distracted. Depending on how much time you have available, you may add 1) developing your author brand and 2) networking with other authors and influencers in your genre(s) to your plate. But do not add anything else unless you are actually writing on a consistent basis. And when I say "write", I mean:
write a novel
write short stories, flash fiction, screenplays, graphic novel scripts, etc
read books in your genre and analyze them (notice your favorite parts, think about how the plot works and why you enjoy the characters)
copy your favorite passages of books in your genre (your brain will absorb the writing differently when you type it out than when you read it)
read books on the writing craft; actually DO the exercises in them
attend writing classes, workshops, conferences
participate in a writing group, online or offline; critique others and be critiqued
if your goal is traditional or indie publishing, learn and practice writing queries and proposals and such
submit your work: to agents, to publishers, to beta readers, to contests, to magazines, to anthologies, etc
in other words, grow your skills by both study and practice
Self-published / Indie press published / Traditionally published/ Magazine published – Once you are published, it's very important that whomever reads your work can connect with you and that you (ideally) collect their email addresses for future marketing efforts. The number one thing: get a website of your own. Even if it's only one page, that's enough to share your author brand and connect with your reader. Choose your social media account(s) and maintain at least a nominal presence. This is the same across all forms of publishing. I'm always disappointed when I read a great piece of flash fiction in a magazine and the author doesn't have a website or social media account. There's no way for me to read more of their work.
2. Number of published works
This is, perhaps, the most influential factor when an author is deciding where to spend his or her time. The recommendations below are based on the shared experiences of many, many veteran writers who are navigating the unexplored regions of the modern publishing 'verse. Names who have come from all walks of publishing: Bob Mayer, Dean Wesley Smith, Seth Godin, Joanna Penn, Sean Platt, JA Konrath, Michael Hyatt, CJ Lyons, Chris Brogan, Guy Kawasaki and many, many more. Feel free to do your own reading and develop your own plan. But if we sat down to coffee, you and I, this is what I'd tell you.
1-2 published works – KEEP WRITING (see "Unpublished" above). You have something out, and that's great. But you need more momentum. Develop your author brand, but stay focused on getting more work published. Finish your trilogy. Put out a novella, some short stories. Build your resume. The goal is that when a reader finds you and likes your work, they will have enough to read that they can transition from reader to fan.
3-5 published works – SHIFT SOME FOCUS TOWARDS YOUR AUTHOR BRAND. Spend at least 20% of your "writing career time" figuring out your brand, getting some copy written about yourself and your books, developing visual materials that reflect your brand, interacting on social media with the intention of building that brand and gathering followers. Network with other authors, especially those whose audiences are compatible with yours. KEEP WRITING. You still need more published before you look like an established author with a body of work, so don't stop writing. Spend 80% of your time continuing to produce your work.
6-10 published works – GET SERIOUS ABOUT YOUR AUTHOR BRAND. Get that brand/platform thing figured out. If you've been putting it off, stop procrastinating. You need a brand, you need an online presence that reflects it across multiple social media outposts, and you need to identify and put into play some strategies for 1) bringing in traffic likely to be your target audience and 2) converting that traffic into loyal followers and 3) moving those followers to buy your books and become raving fans that do your marketing for you.
10+ published works – REST ON YOUR LAURELS. You heard me, your work here is done. OF COURSE I'M KIDDING, SILLY! Did you know, there are authors who published over 500 books in their career? Isaac Asimov, for one! If you are enjoying what you're doing, keep doing it. However, I would recommend thinking hard about where you want to go from here. Do you love the writing process best? Or do you want to spend more time getting to know your readership and enjoying relationships with people who love your work? Look at your body of work so far and decide what you would like to add to the collection. More of the same? Or shifting gears towards something you've always wanted to write but hesitated to try? Decide some career goals (measured financially, by number of books sold, or by numbers of books written, or some other factor — you pick!) and go for them. If you are going to continue to write, then all of the above items mentioned for people with fewer published works applies to you, too. If you don't already have an author brand, online presence, etc, get that done.
BONUS TIP: 3+ published works & overwhelmed by marketing – If you don't understand online marketing and feel overwhelmed and confused when you try to research it on your own, MAKE FRIENDS with some people who "get it" and who have the ability to point you in the right direction. When I say "make friends", I mean anything from reading their blog and commenting with your questions to actually inviting them out to coffee if you live nearby. Don't be a pest, but step out boldly and ask some questions. Then DO something they recommend. Thinking about marketing never does a thing. DOING it — trying something, seeing how it goes, trying something else (or more likely, doing the same thing consistently for a year or two) — is what gets results.
To Be Continued… Next week!